Reviewed on Homify

Description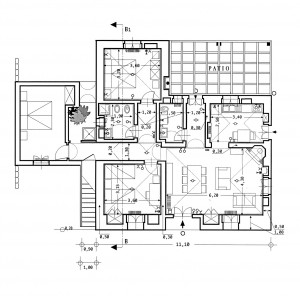 The Janella country house is a building made ​​entirely from scratch and located on a steep slope. This special feature offered a panoramic view of considerable interest.
The piece of land chosen for the new structure – formerly used as a pasture field – appeared as a large green lawn dotted with large oaks. the newly built house was placed in the proximity of one of these oaks, positioned in the highest part of the plot (Insert photo of the facade with panorama).
The house has been designed with a special attention to the characteristics of the typical rural buildings of the area. The facade is characterized by the front door topped by a large round arch and two windows placed on both sides of the door.
The windows have typical shelves with molding groove straight and special frames highlighted with the use of a warm yellow: this color together with the white lime façade and the blue sky produces a bright and pleasant effect. (Photo Facade 1)
Inside, the house is characterized by the use of cloister vaults and barrel vaults, made with typical porous limestone. A special anti friability treatment has been practiced on it, giving also a nice dark amber color. (Photo Living 1)
The building, about 80 square meters of indoor area, is composed by: a large living room where open windows and French doors allow a strong visual relationship with the hilly landscape outside and where a large fireplace is also located; the kitchen – featuring a spacious masonry working surface – designed to allow a very good relationship between the spaces and the ergonomic interiors.
Two comfortable bedrooms and two bathrooms complementing the accommodation capacity of the house.
Informations
City: Locorotondo (Bari) Italy